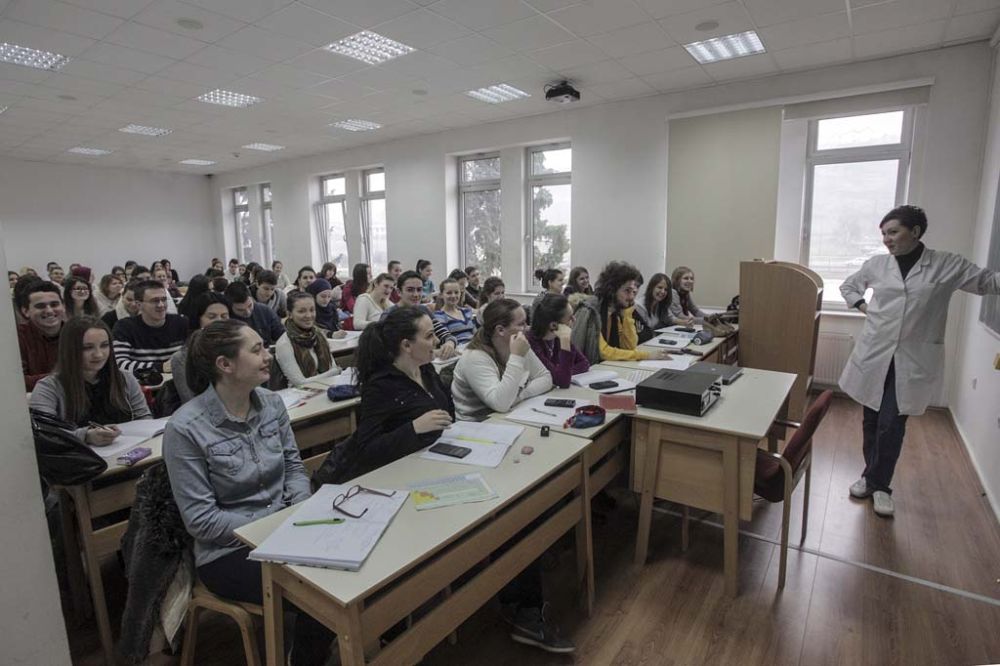 Why enrolling?
Education at the Faculty of Pharmacy is a pedagogical process that is closely related to values deemed as input and output characteristics. Its end goal is to shape a pharmacist into an expert who according to overall characteristics, knowledge and abilities, is distinguished from other faculty-educated professions. Candidates are enrolled at the Faculty of Pharmacy after completing high school after taking an admittance exam from chemistry, biology and mathematics according to the competition call announced by the Ministry of Education, Science and Youth of Sarajevo Canton. Masters of Pharmacy are capable of researching, developing and promoting drugs from the pharmaceutical, chemical, biochemical, molecular, biological and medical points of view. They also acquire the specific knowledge required in research and development and the use of drugs. The Master of Pharmacy academic title, received after graduating, corresponds with the Master of Pharmacy for regulated professions and Qualifications for Pharmacists according to Directive 2005/36/EC of the European Parliament and Council of the European Union on the recognition of professional qualifications.
What after completing studies?
After graduation, Master of Pharmacy is qualified to work in a pharmacy, prepare and dispense drugs, medical devices and dietary products. Works independently in biochemical laboratories, develops and applies different methods and techniques. Master of Pharmacy is qualified to work on the development and application of appropriate analytical methods and techniques in research, development, control, biochemical and synthesis laboratories, independently working on the isolation of the principles from natural healing raw materials and characterization of natural remedies and is active in conducting phototherapy. He prepares autonomously formulation, manufacturing/production and evaluation of pharmaceutical forms/medicine carriers in the laboratory and industrial scale as well as the biopharmaceutical characterization of medicines. Independently performs research of main characteristic of pharmaceutical-technological operation in laboratory and industrial production of medicines. Represents a part of the health professional team within provides to doctors and other health care professionals rational pharmacotherapy, as well as other activities related to preventing and treating disease and promoting a healthy lifestyle. Performs tasks associated with providing availability, distribution and marketing of medicines, medical funds, dietetic and cosmetic products.
Study pattern: 5 (I + II) + 3
Departments: aggregated study
Address: Zmaja od Bosne St, 8
E–mail: ffsa@ffsa.unsa.ba
Http: www.ffsa.unsa.ba