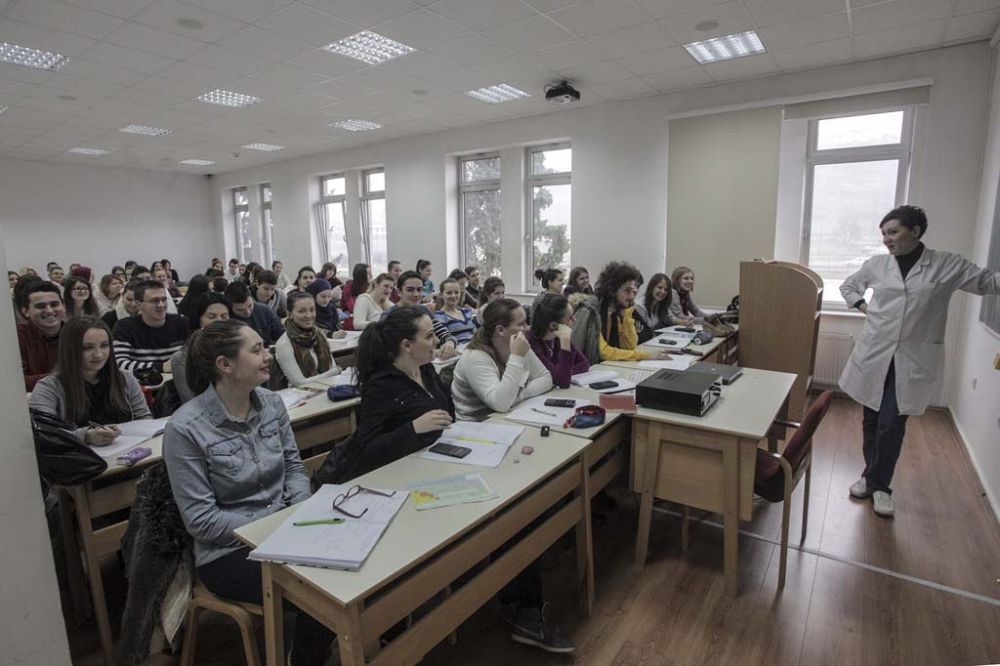 Why choose studying at the Faculty of Pharmacy?
The answer is simple: Because the student is in the focus of the teaching process! Education at the Faculty of Pharmacy, University of Sarajevo, is a pedagogical process designed to provide students with a quality and easy system of acquiring knowledge and practical training for successful work in the future profession. Masters of Pharmacy are experts who, in the totality of their knowledge and abilities,  stand out and differ from other  university-educated professionals. Candidates are enrolled at the Faculty of Pharmacy, University of Sarajevo, after completing secondary school, with a passed entrance exam in Chemistry, Biology and Mathematics. The Master of Pharmacy study programme equips the student with knowledges necessary to do research, develop and administer medications applying knowledges from a pharmacy, chemistry, biochemistry, molecular biology and medicine. Students acquire the specific knowledge and skills needed in the research, development and application of medicaments, as well as the promotion of health, prevention and treatment of diseases, which contributes to an overall better health protection of the population.
The Master of Pharmacy academic title, obtained after graduation at the Faculty of Pharmacy, University of Sarajevo, corresponds to the Master of Pharmacy for Regulated Professions and qualifications for pharmacists according to Directive 2005/36/EC of the European Parliament and Council of the European Union on the recognition of professional qualifications.
What after completing the studies?
After graduation, Master of Pharmacy is qualified to work in a pharmacy, prepare and dispense medicaments, medical devices, dietary and cosmetic products. They work independently in biochemical laboratories, develop and apply different methods and techniques. Masters of Pharmacy are qualified to work on the development and application of appropriate analytical methods and techniques in research, development and control-oriented, biochemical and synthesis laboratories, and to independently work on the extraction of healing ingredients from natural materials and characterisation of natural remedies and are active in conducting phototherapy. They autonomously prepare pre-formulation, formulation, manufacturing/production and evaluation of pharmaceutical forms/medicine carriers on the laboratory and industrial scale, as well as the biopharmaceutical characterisation of medicines. They independently perform characteristic pharmaceutical-technological operations in the laboratory and industrial production of medicines. They can have a role in the health- professional teams within which, together with doctors and other health care professionals, they ensure that a rational pharmacotherapy is conducted, as well as other activities related to preventing and treating disease and promoting a healthy lifestyle.
Years of study: 5 (I+II) +3
Address: Zmaja od Bosne St. No. 8
Tel.: +387 33 586 180
E-mail: ffsa@ffsa.unsa.ba
Web: www.ffsa.unsa.ba
FB:  Farmaceutski Fakultet u Sarajevu