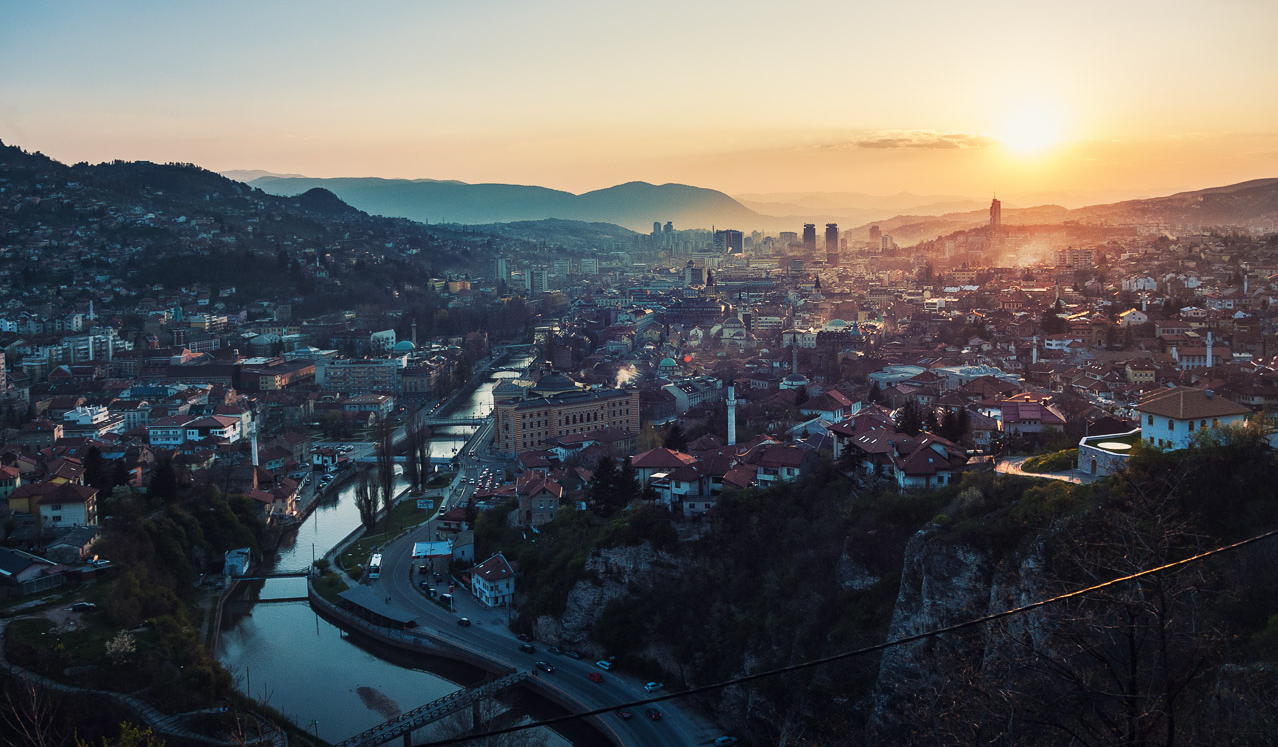 A WORD OR TWO ABOUT SARAJEVO
The city was founded in ancient times by the venerable Isa-bey lshaković at the present location. Sarajevo is the capital of and largest city in Bosnia and Herzegovina. The east – west direction follows the Miijacka River, extends from Bentbaša to the Sarajevsko polje encompassing Ilidža and Hrasnica. If we take width as a reference point, it is located between Trebević and Crepoljsko and Debelo brdo and Hum.
One can freely say that the city of Sarajevo is the urban, economic, administrative, cultural and artistic nexus of Bosnia and Herzegovina.
Thanks to the vast spiritual, historical and natural appearance, Sarajevo is far more famous than some of the larger cities in the world. The population is approximately 429 000.
SARAJEVO ASSASSINATION
The assassination of Austro-Hungarian Crown Prince Franz Ferdinand and his wife Sofia in Sarajevo in 1914 was the event that triggered the First World War.
THE 14TH WINTER OLYMPIC GAMES
Sarajevo is an Olympic city too. It hosted the 14th Winter Olympic Games in 1984, then evaluated as the best organized games to that moment. Today, one can get into the city's Olympic spirit easily, especially in winter.
SARAJEVO SIEGE
During the 1990s the name Sarajevo was often on the daily newspapers covers around the world. In 1992, Sarajevo entered into the longest siege in one of the bloodiest wars in recent European history. The City of Sarajevo spent under constant siege 1,479 days
SARAJEVO TOPONYMY
The Miljacka River flows through the City and in the city's immediate vicinity there is the Bosna River Spring – with the popular spot for picnics. The city is surrounded by Olympic Mountains: Jahorina, Bjelašnica, lgman, Treskavica and Trebević that are especially during the winter favorite visiting places both for Sarajevans and tourists from all over the world.
ARCHITECTURE
The urban image of the city is characterized by many buildings, mosques from the Ottoman era, Orthodox, Catholic and Evangelical churches, synagogues and other cultural and historical monuments, however there are modern architectural buildings built according to the latest standards.
EDUCATION
The City of Sarajevo is the HQ of the largest higher education institution – University of Sarajevo, and of a numerous other HEIs, making it one of the largest university centers in the entire South East Europe region.
CULTURE
With several national theaters, museums of cultural institutions, Sarajevo is an important place on the cultural map of this part of the European continent. Every year, the city on the Miljacka River hosts a number of international cultural festivals, among which the most important are: SFF – Sarajevo Film Festival, Sarajevo JazzFest, "Baščaršija nights" Summer Cultural Festival, theater festival of new productions – MESS – experimental theater, TeatarFest,  Festival of contemporary poetry, Kid's Fest, a festival for children.